Robotic welding installations.Old
Iruña offers more than 40 years of experience in welding robotics solutions. We have supplied robotized welding facilities for manufacturers of earth moving machinery, construction of machinery, heavy transport vehicles by road and cranes, buses and railway wagons, boilers, machine tools and shipbuilding. Our manufacturing base systems for companies known internationally.
IGM in Spain, Portugal and México
We are the exclusive representatives of IGM in Spain, Portugal, and Mexico. IGM is one of the most prestigious manufacturers of welding installations developed specifically for arc welding applications, with extensive experience in MIG / MAG and TIG processes.
The range of IGM products also includes robotic systems for cutting and chamfering by oxyfuel or plasma. IGM was the inventor of the hollow wrist shaft for welding robots, a design that supports a wide variety of processes (single wire, double wire, TIG, plasma) and sensors (laser sensors, laser cameras).

AUTOMATION OF ROBOTIC WELDING PROCESSES
We work together with the customer from the initial consultation to the beginning of production, studying their needs, offering customized solutions and support in the optimum configuration of their robotic installation and advice in the fastening tooling, welding processes, and product preparation.
MANUFACTURING OF TOOLS
Supported by our technical office we can offer the design and manufacture of robotized welding tools. In cooperation with the technicians of the client, we can design, validate and manufacture specific tools for the automatic welding of pieces. Posted in our technical office we can offer the design and manufacture of tools for robotized welding.
TRAINING
Integral training aimed at imparting knowledge to maintenance personnel in the process employed and machinery.
PROGRAMMING
Programming of new parts at the customer's premises or by using the off-line programming system.
APPLICATIONS BY SECTORS
IGM's facilities are designed to provide soldering solutions on large pieces or complex welds.
There are many sectors where our application can play a role.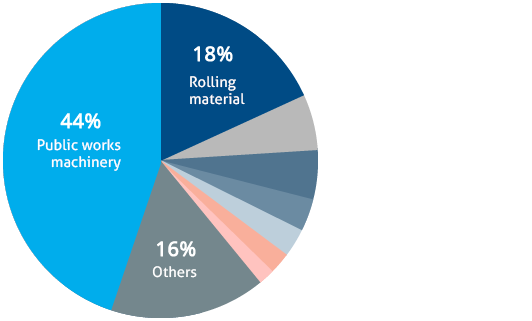 WHAT MAKE US DIFFERENT...
Without a doubt, customization. We offer a complete range of custom solutions ranging from the most basic systems to the most complex for the automation of welding and cutting processes. The variety of products available in welding and cutting robot technology is unique to the industry and amply satisfies the specific needs of each customer.